Keihan Electric Railway Co., Ltd. (Head Office: Chuo-ku, Osaka City, President: Yoshihiro Hirakawa) will sell original goods to commemorate the 10th anniversary of the 13000 series of eco-friendly vehicles.
The 13000 series vehicles are next-generation vehicles developed with a focus on improving safety, environmental considerations, and barrier-free support by combining technologies and know-how accumulated in vehicle development from April 2012 to the present. Started operation on the 14th. Compared with the traditional car (2600 series), the power consumption during driving is reduced by about 65%. The interior lights and headlights of the secondary car use LEDs to reduce power consumption and greenhouse gas emissions. Plus, it's a vehicle with fine details to improve safety and accessibility.
As a train that is friendly to both the earth and human beings, it has been well received, and thanks to you, we were able to celebrate our 10th anniversary. To commemorate this, we will be selling specially designed special tickets and original merchandise from Friday, April 1, 2022. Some products are planned and developed as eco-car anniversary products, providing opportunities to think about the environment together with customers. In addition, a commemorative header will be affixed on the 13000 series No. 3 train from April 9 (Saturday) to May 8 (Sunday), 2022.
The Keihan Group is carrying out "BIOSTYLE PROJECT" to contribute to the realization of SDGs for a better world in 2030. The introduction of the 13000 series of eco-friendly vehicles is also part of the project.
The outline is shown in the attached table.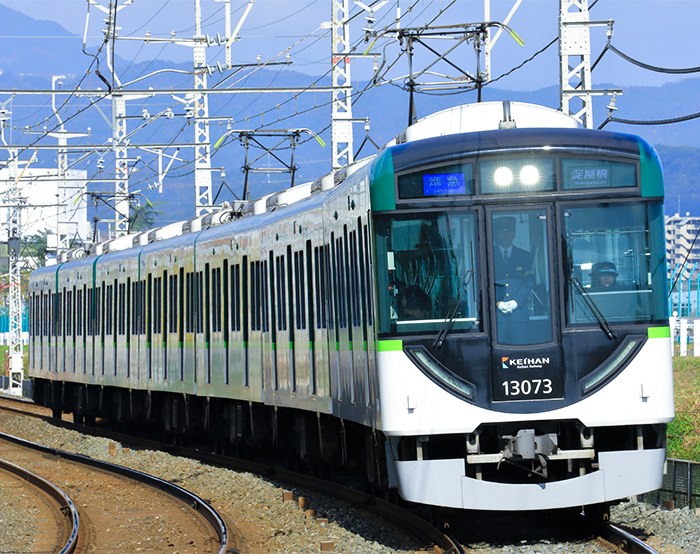 13000 Series Vehicles
(another paper)
1. 1. About the original design of the special ticket
To commemorate the 10th anniversary of the 13000 series, we will be releasing Target Tickets with design cards.
Period: April 1, 2022 (Gold) to March 31, 2023 (Gold)
Applicable Tickets: 1 Keihan Railway Osaka/Kyoto 1-Day Sightseeing Ticket
(Same day ticket: Adult 1,400 yen, Child 700 yen Advance ticket: Adult 1,200 yen, Child 150 yen)
2 Keihan Electric Railway Kyoto One Day Sightseeing Ticket
(Same day ticket: Adult 900 yen, Child 450 yen Advance ticket: Adult 800 yen, Child 100 yen)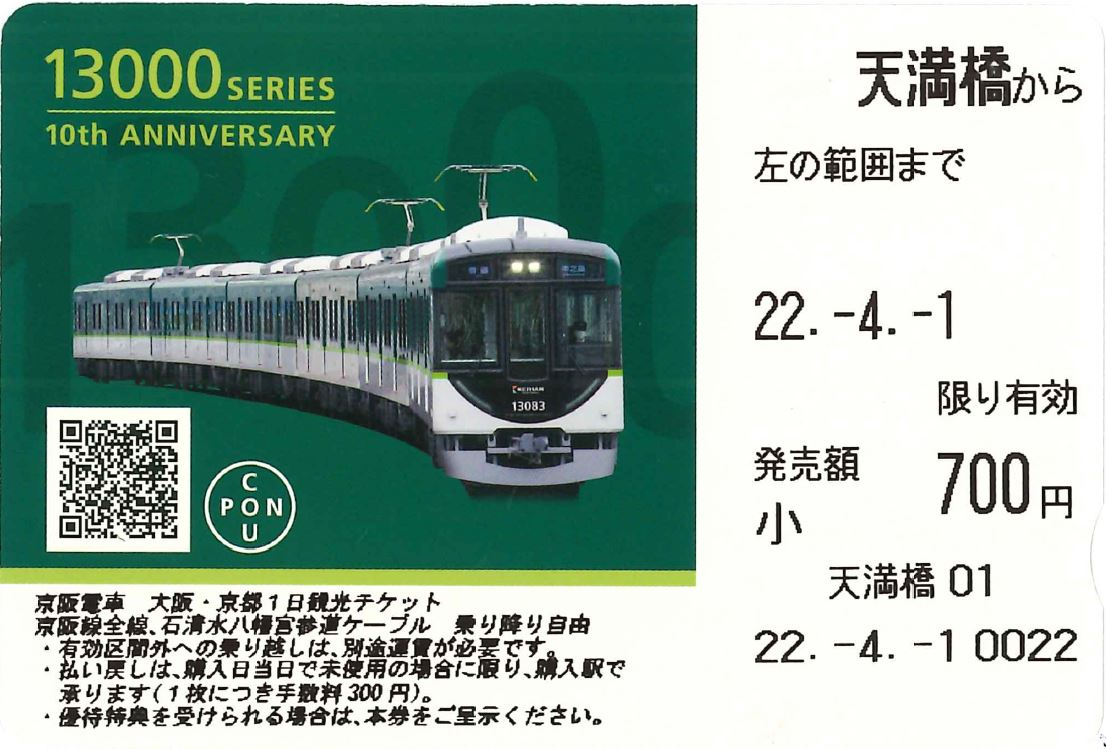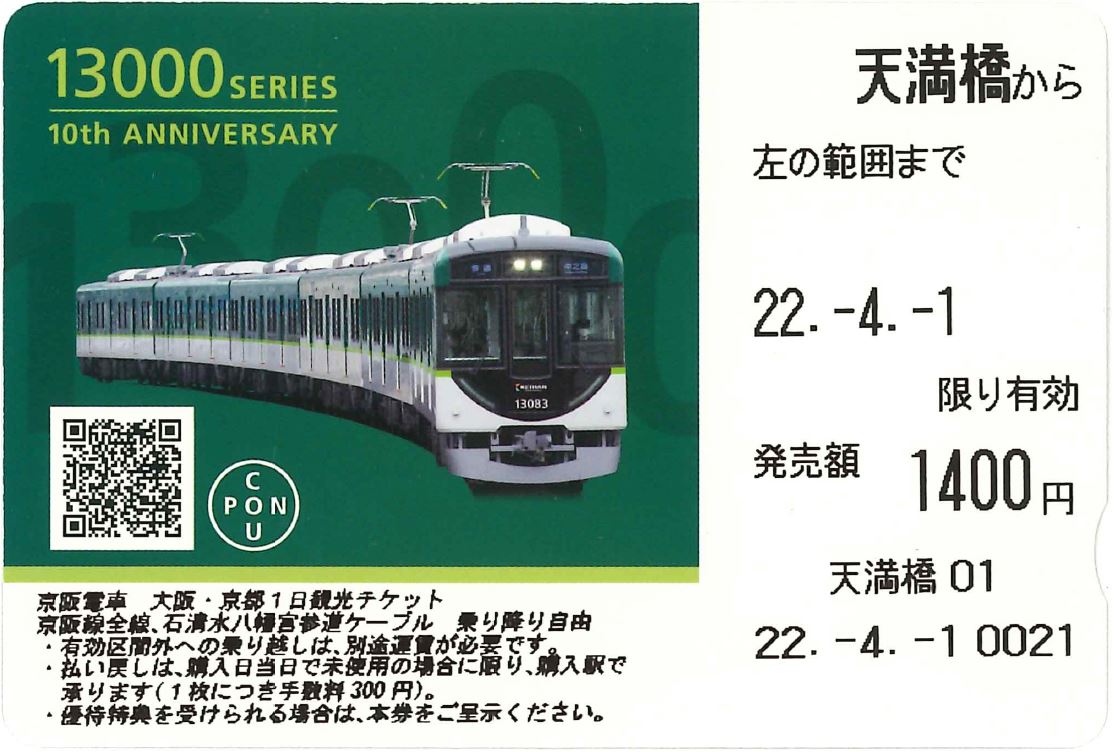 [限定原创设计]
*It will end as soon as it is used up.
*Advance tickets can only be sold online.
[在线特别网站]
https://www.keihan.co.jp/traffic/valueticket/onlineticket/
2. About the avatar commemorating the 10th anniversary of the 13000 series
Portraits will be posted to commemorate the 10th anniversary of the 13000 series.
Operation time: April 9, 2022 (Saturday) – May 8 (Sunday)
Travel zone: Keihan Line
Vehicles used: 13001-4-13051, 13031-6-13081, 13032-6-13082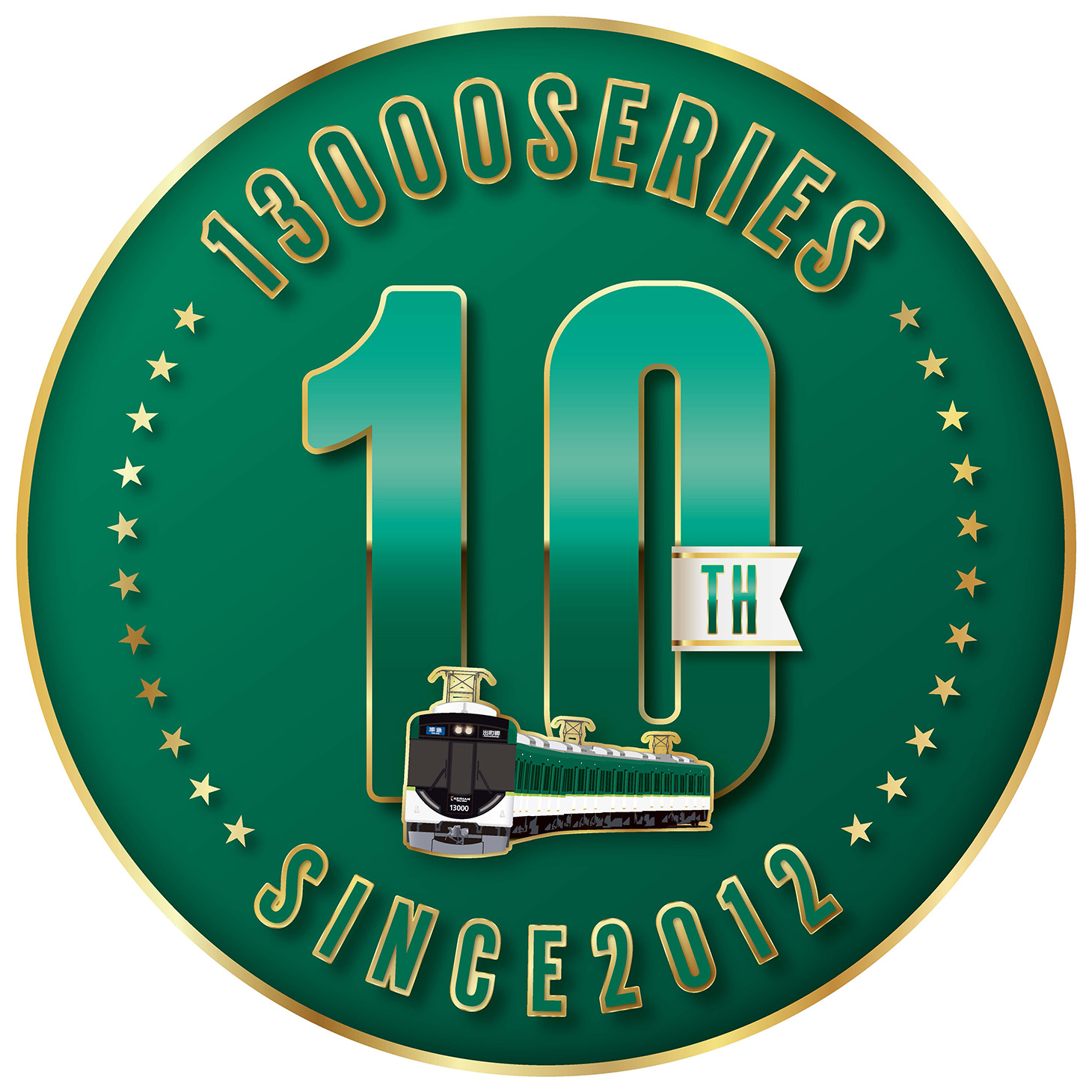 [纪念头标(图)]
3. 3. About the original product "Keihan Electric Railway 13000 Series 10th Anniversary Mug"
We will be selling an original mug bottle with a commemorative design illustration of the 13000 series vehicle so that we can provide an opportunity to think about environmental issues. For commercialization, we have cooperation with Tiger Corporation Ltd., a company along the Keihan Railway.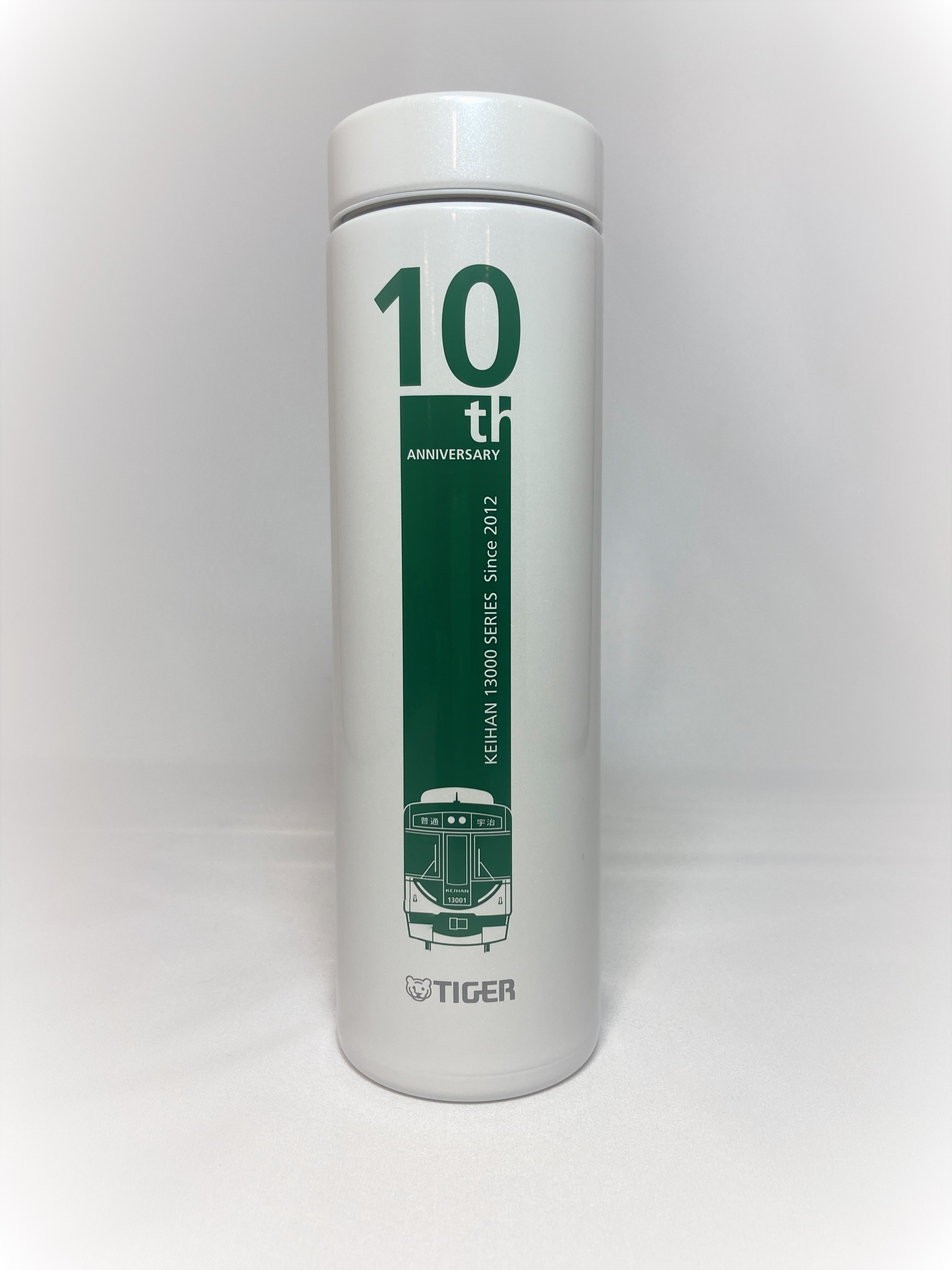 Specifications: vacuum thermos 500ml
Release price: 3,800 yen (tax included)
Place of sale: An3 (Nayagawa store, Nayagawa north exit store, Kalian store, Katsushika store, Yawata store, Naka store)
Shima store, Tambabashi store, Gion Shijo store, Sanjo store),
Sales activities at Keihan Electric Railway Moyo-shi Temmabashi Station, etc.
Published: April 13, 2022 (Wednesday)
* It will also be sold at the "Osaka Mint Cherry Blossom Sale" held at Temmabashi Station from April 13 (Wednesday) to 19 (Tuesday), 2022. In addition, we sympathize with the company's efforts to achieve a circular economy, "Recycling and Recycling Used Stainless Steel Bottles", and we will participate in bottle recycling during the sales event. Taking this sale event as an opportunity, we will collect stainless steel bottles at any time until the end of the product sale.A schedule of collected sales events is our homepage
We will notify you at (https://www.keihan.co.jp/traffic/).
For more information on Tiger's achievement of a circular economy, visit its website.
https://www.tiger.jp/news/press_release/pr_210729_02.html
About the Keihan Group "BIOSTYLE PROJECT" that proposes a lifestyle that realizes the Sustainable Development Goals
We will contribute to the achievement of the Sustainable Development Goals while achieving a healthy, beautiful and high-quality life. The Keihan Group has developed a lifestyle that contributes to a healthy recycling society, such as "BIOSTYLE", and recommends it to customers.
Contribute to "the realization of a bright and healthy material recycling society where people and the earth can easily and happily incorporate things that are good for people and the earth into their daily lives", rather than activities that are generated only according to rules and regulations. patience. Therefore, we will promote various activities that the Keihan Group can do.
Click here for details on "BIOSTYLE PROJECT"
https://www.keihan-holdings.co.jp/business/biostyle/
// モーダル画像の読み込み
var modal_img = []; modal_img[1] = "https://www.atpress.ne.jp/releases/303937/img_303937_1.jpg"; modal_img[2] = "https://www.atpress.ne.jp/releases/303937/img_303937_2.jpg"; modal_img[3] = "https://www.atpress.ne.jp/releases/303937/img_303937_3.jpg"; modal_img[4] = "https://www.atpress.ne.jp/releases/303937/img_303937_4.jpg"; modal_img[5] = "https://www.atpress.ne.jp/releases/303937/img_303937_5.jpg";
$(".photo").click(function () { for (i = 1; i <= 20; i++) { if (modal_img[i]) { $('.modal_img' + i).prop('src', modal_img[i]); } } }); // ASAGAKEのhight //$(window).on('message', function(e){ // var dataset = e.originalEvent.data; // if (dataset['h'] > 0) { // $('.asagake_frame').css({'height': dataset['h'] + 'px'}); // } // // ボタンを表示する処理 // if (dataset['show_btn'] != undefined && dataset['show_btn']) { // // ここで丸いボタンを表示して、https://asagake.com/offer/ + code にリンクする // code_url="https://asagake.com/c/" + dataset['keycode']; // btn_html = dataset['btn_html'].replace(/"/g,'"') // .replace(/'/g,"'") // .replace(//g,">") // .replace(/&/g,"&"); // var button_html="'; // $('.news_detail_main').after(button_html); // } //}); // facebook (function(d, s, id) { var js, fjs = d.getElementsByTagName(s)[0]; if (d.getElementById(id)) return; js = d.createElement(s); js.id = id; // js.src="https://connect.facebook.net/ja_JP/sdk.js#xfbml=1&version=v2.11&appId=1323731851019247"; js.src="https://connect.facebook.net/ja_JP/sdk.js#xfbml=1&version=v2.11&appId="; js.async=true; fjs.parentNode.insertBefore(js, fjs); }(document, 'script', 'facebook-jssdk'));
// get Associated PR let associatedPRTemplate = (function () {/*
*/}).toString().match(/\/\*([^]*)\*\//)[1]; $(function() { $.ajax({ url: "/API/AssociatedPr/", type: "GET", dataType: 'json', data: { pr_id: 303937 } }).done(function (data, status, xhr) { $.each(data, function(i, item) { if (data.length > 0) { $('#associated_pr_list').show(); } item.pr_publisher_name_encoded = encodeURIComponent(item.pr_publisher_name); let embedTemplate = embedObjectParametersToString(item, associatedPRTemplate); $('#associated_pr_list').append(embedTemplate); $('#associated_pr_list').css('margin', '10% 8%'); }); }) })
function embedObjectParametersToString(object, str) { Replacer = function(b,a){if(typeof a!="object"){a=Array.prototype.slice.call(arguments,1)}return b.replace(/\{\{(.+?)\}\}/g,function(d,e){return(a[e]!=null)?a[e]:d})}; return Replacer(str, object); }