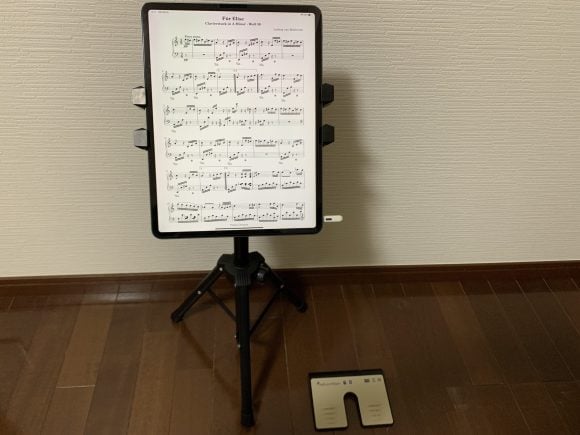 Just as there are e-books in paper books, there are e-books in paper sheet musicelectronic sheet musicIt has the advantage that it's easy to find what you're looking for from a large collection of sheet music, and it doesn't take up storage space.
The most popular way to set up an electronic score environment is to use a 12.9-inch iPad.iPad ProYou can use to view sheet music at a size close to paper sheet music.
This time I actually used a 12.9-inch iPad Pro to build an electronic music score environment, so I will report it.
Why the 12.9-inch iPad Pro is the best electronic sheet music reader
First, why is 12.9 inches among the many tablets/e-readers/e-book readersiPad Probutelectronic sheet musicI'll explain if it's chosen by many as the terminal to use.
Screen size close to A4
The first reason is the size of the screen.
A typical sheet music is a bit larger than A4 size, but aside from the margins, the part where the sheet music is printed can be said to be almost A4 size.
The 12.9-inch iPad Pro is nearly A4 in size, so it can be used without discomfort compared to paper sheet music..
| | Horizontal (mm) | Vertical (mm) |
| --- | --- | --- |
| A4 | 210 | 297 |
| 12.9-inch iPad Pro (5th generation) | 214.9 | 280.6 |
| Lenovo Yoga Tab 13 | 200.4 | 293.4 |
| Microsoft Surface Pro 8 | 208 | 287 |
Any tablet with the same 13-inch display looks good, but in realitySome tablets have aspect ratio issues.
For example, the Lenovo Yoga Tab 13 in the table above is 10:16, while the A4 is 10:14.14.
The iPad Pro, on the other hand, has an aspect ratio of 10:13.33 (3:4), which is closer to A4 than the Yoga Tab 13 and can display a size closer to A4.
Equipped with iPad OS optimized for touch operation
In terms of aspect ratio, the Microsoft Surface Pro 8 is also close to the A4 at 10:15 (2:3), but the OS installed on the Surface Pro 8 is Windows.
Although better than ever, Windows wasn't originally a touch-based operating system.
When working with electronic scores, use a touch panel instead of a mouse or keyboard.The iPad Pro with iPad OS, developed on the premise of touch operation, has a lot to offer.You can say this.
Long-lasting battery with ProMotion display
Battery life is an issue when using electronic scores.
If you don't work for a long time, you may not be able to use it when you want to use it.
Since 2017 (2nd generation), iPad Pro has a ProMotion display with variable refresh rate, which shows excellent battery performance when displaying electronic musical scores.to do it.
When using electronic scores, the CPU and GPU hardly work because it takes a long time to display the same content on the screen.
However, even if the content is the same, the screen display is regularly updated (refreshed), so if the update frequency is high, the battery consumption will increase.
A typical tablet has a fixed refresh rate of 60Hz, but ProMotion displays can be lowered to a refresh rate if desired, and Apple's developer documentation says the iPad Pro can go as low as 24Hz.
In fact, when I tried it on the third-generation iPad Pro released in 2018,Even though I continued to display the score for about an hour and a half, the battery was only reduced by about 7%.(Brightness is set automatically, use it in a room with a south-facing window on a sunny afternoon).
Can be used for other purposes even if thwarted by electronic sheet music
Dedicated electronic score readers are also available for electronic scores.
Previously, a terminal called GVIDO was also sold in Japan (currently sold out).
However, the dedicated terminal has the disadvantage of being difficult to use for other purposes.
If electronic sheet music isn't to your taste, and you fall back on paper sheet music, dedicated terminals will be wasted..
And because it is a niche market, the price is on the high side. The GVIDO mentioned above is 198,000 yen (tax included), and the fifth-generation 12.9-inch iPad Pro 1TB Wi-Fi model (213,800 yen (tax included)) ).
The iPad Pro can be used for a variety of purposes, making it a great value for money, and it can be used for other purposes, even if it's not for electronic sheet music.
3rd generation iPad Pro or newer is recommended for electronic sheet music
The 12.9-inch iPad Pro is currently on sale to the 5th generation, but older generation devices are cheaper, including used ones.
When it comes to electronic scores, any iPad Pro is more than capable.
I actually compared the 5th generation iPad Pro in the editorial department to the 3rd generation iPad Pro in my hand, but I didn't feel any difference when it came to handling electronic scores.
However, the old terminal may stop supporting the OS in advance, and since the peripheral area of ​​the display has become smaller after the 3rd generation,3rd generation or later recommended.
The 4th generation will strengthen the camera, and the 5th generation system-on-chip (SoC) will become the M1 chip similar to the notebook computer, but neither will significantly affect the electronic score display, so it is a budget please consult and choose.
Piacore is recommended as an application
If you want to build an electronic score environment on iPad Pro,Piacore is recommended as an applicationYes.
It can be said to be the standard application for electronic score users, used by more than 3 million musicians around the world.
Use with IMSLP
This Piascore has many advantages, but the first one isIn partnership with the International Music Score Library Project (IMSLP)Yes.
IMSLP is a free website for publishing off-copyright sheet music, and you can get a lot of sheet music, especially in the classical music field.
Getting points when you want to play is a big plus.
Equipped with recording, tuner and metronome functions
Pia scoreEquipped with recording, tuner and metronome functions necessary for performanceit has been.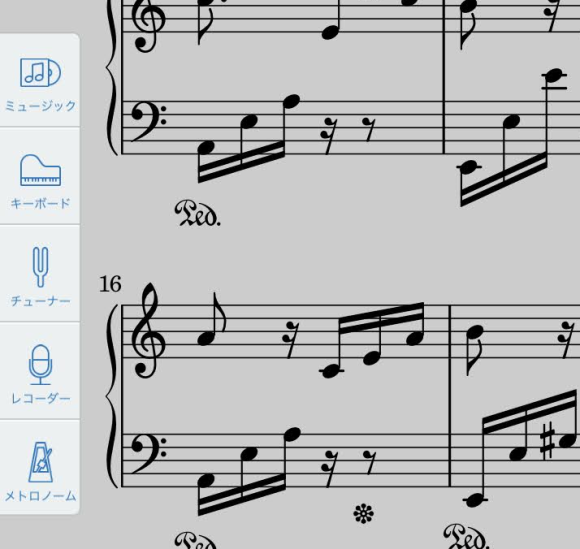 This is very convenient because if you have an iPad Pro, you can use these.
Recording and using the tuner requires an in-app purchase (610 yen), but it's worth it.
Can write and print
Using Piascore, using the touch panel of the iPad ProYou can write freely on the sheet music.
In addition to handwriting, you can also use music notation stamps, enter characters, and convert colors.
Text can be erased or rewritten as many times as needed.
In addition, if you make an in-app purchase, you have access to print and email features, so it's easy to carry or share written scores as paper.
Peripherals you want to buy
After installing the iPad Pro and Piascore, I want to buy some peripherals together.
AirTurn series that lets you turn pages with your foot on it
Piascore can turn pages by flicking the screen, but it's difficult to turn pages when using a two-handed instrument.
Piascore is able to automatically scroll the score and turn pages with blinking and mouth movements at regular intervals, but most reliably.Introducing the AirTurn collection that lets you turn pages with your footperhaps.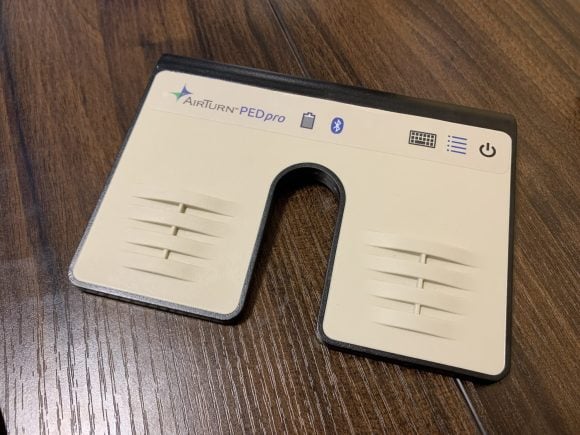 Instrumentalists who don't normally use their feet need to get used to it, but once they get used to it, they can turn pages more comfortably than paper music.
Music Stand Tablet Stand
You can place your iPad Pro on your desk to view electronic scores,If you use a music stand-type tablet stand, you can use it in a form that is closer to paper sheet music..
If it is a foldable stand, you can put it away when not in use, or you can take it with you.
writing pen
You can write on the sheet music with your fingers,If you want to write on a thin stick, it is more convenient to have a penYes.
The Apple Pencil is the pen for the iPad, but if you just want to write on electronic sheet music, its design is too complicated, so a cheap compatible pen is a good option.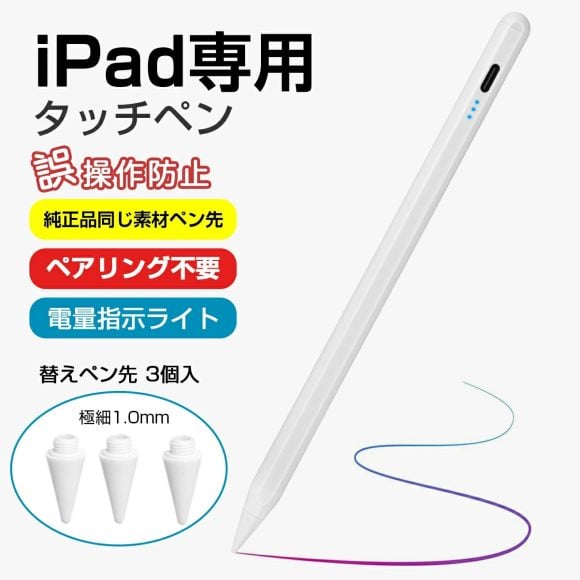 By the way, if you're using the sandwich-style music stand described above, you can't stick the pen to the side of the iPad Pro.
After various attempts, I found that it can be attached to the back of the iPad Pro (iPad Pro 3rd generation).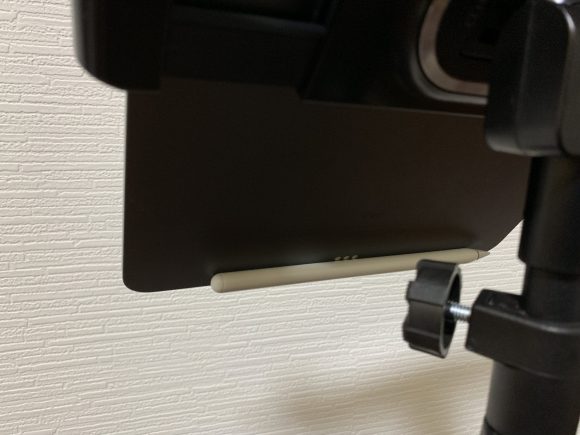 I also like the fact that it doesn't get in the way of the show because it's not visible from the front.
There is also a way to display fractions in the spread
You can use iPad Pro to create a comfortable electronic score environment, but sometimes there's only one thing that doesn't match paper scores.
That isWhen displayed vertically, the score cannot be viewed across two pages with just one iPad Pro.This is what I want to say.
Spreads reduce page turns and bring you closer to your essay score.
in order to achieve thisThe Millionaire Book appYes.
This application displays a PDF file on two iPad OS/iOS devices and moves a page, when you turn pages, you can skip a page to display a spread.
It's a lot of money to buy two 12.9-inch iPad Pros, but if you really want to use them on two pages, consider them.
Electronic sheet music recommended 12.9-inch iPad Pro
As described in this articleYou can create a comfortable electronic score environment with the 12.9-inch iPad Pro..
As for the digitization of paper sheet music, the so-called book "self-help" approach can be used intact.
If you have a lot of paper sheet music, it can be difficult to digitize it, but give it a try.
Source: Apple
(Hauser)