【Green Culture Co., Ltd.】
-Global concern and fast-growing plant-based meat market in terms of environment and health-
Green Culture Co., Ltd. (Headquarters: Katsushika-ku, Tokyo, Representative Director: Satoshi Kaneda) is a vegetable and meat food technology company, and is the president of Hotel Odakyu Southern Tower Co., Ltd. (Headquarters: Shibuya-ku, Tokyo, President : Atsushi Koyanagi) will be offering a set menu using plant-based meat "Green Meat (TM)" on March 1, 2022 (Tuesday) at the South Tower restaurant on the 20th floor of "Odakyu Century South Tower Hotel" operated by me.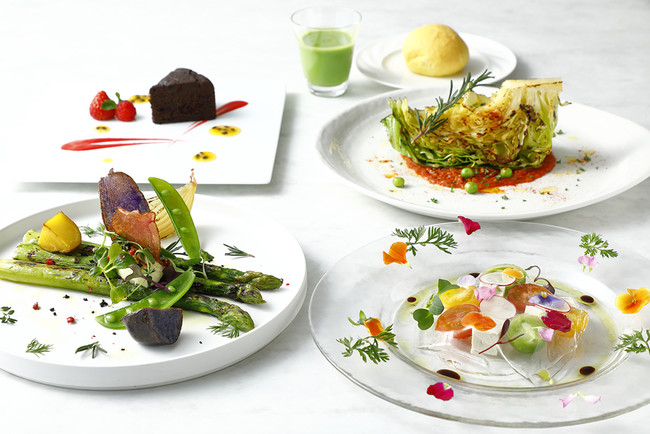 Cooperation background and future development
At the Nanta restaurant on the 20th floor of the Odakyu Century Nanta Hotel, Chef Jun Ishikawa, who is certified as a vegetable sommelier, will serve a set menu made from Tokyo vegetables as part of SDGs initiatives such as local production and local consumption and food loss opening "Vegetable Course Featuring Tokyo Vegetables".Exploring new ingredients while responding to customer feedback "I want to taste meat"​​​Our "Green Meat™", although it is a vegetable, can express a meat-like taste, which goes well with Tokyo vegetables and has been decided to use it as one of the menu ingredients for a full vegetable meal..
With the reorganization of the course menu, we would like to propose new ways to eat vegetarian meat.
"Vegetable set" featuring Tokyo vegetables 4,700 yen (tax and service charge included)
-Spring 2022 March 1st (Tuesday) to May 31st (Tuesday)-
[绿肉™菜单|热开胃菜]
Roasted Spring Cabbage
Green Meat Enchiladas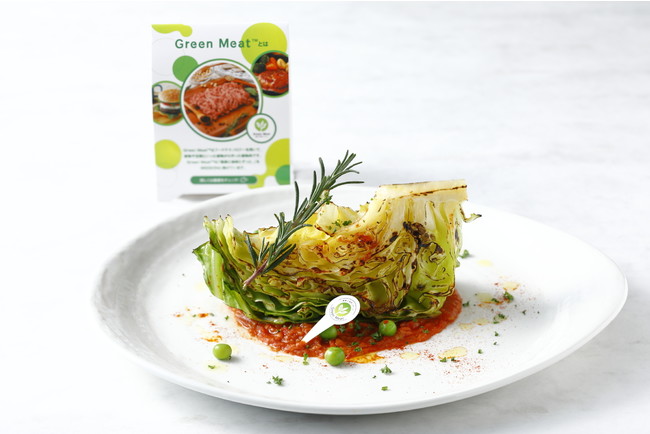 About Odakyu Century South Tower Hotel
Odakyu Century South Tower Hotel is located in Odakyu South Tower, a high-rise complex consisting of office buildings with 4 floors underground and 36 floors above ground. The hotel floors are on the 19th to 35th floors, and the lobby reception is on the 20th floor. All 375 rooms are located on floors 22 to 35. From the restaurant, lounge and guest rooms, you can enjoy views of Tokyo in the distance.Guest rooms: 375, restaurant/lounge: 3, banquet/meeting room: 2/private room: 2
【location】
2-2-1 Yoyogi, Shibuya-ku, Tokyo 151-8583
TEL. 03-5354-0111 (representative)
Homepage: https://www.southerntower.co.jp
Facebook: https://www.facebook.com/southerntower/
Instagram: https://www.instagram.com/hotel Centurysoutherntower/
Outline of Plant Meat "Green Meat™️" (https://greenmeat.jp/)
Unlike soy meat, "Green Meat™️", which Green Culture Co., Ltd. began selling to outside restaurants in April 2021, is based on our original technology and does not use animal raw materials such as soy protein. It is a product that feels the satisfaction and deliciousness of soy meat, close to the feeling of meat. Since it is shredded, it can be used in a variety of recipes as well as livestock meat. Depending on the cooking method, regardless of the type of meat such as beef, pork, chicken, etc., it is easy to cook, so it is popular and is selected by many restaurants as sustainable plant-based meat that considers the environment and health. It has been selected by Tokyo's famous Ramen shop "Menya Musashi" (in cooperation with "Plant Base Kakuni Ramen"), "Palace Hotel Tokyo", and "CAFE Stylo" run by Itoya in Ginza are used. Also available for retail sale at major distribution companies.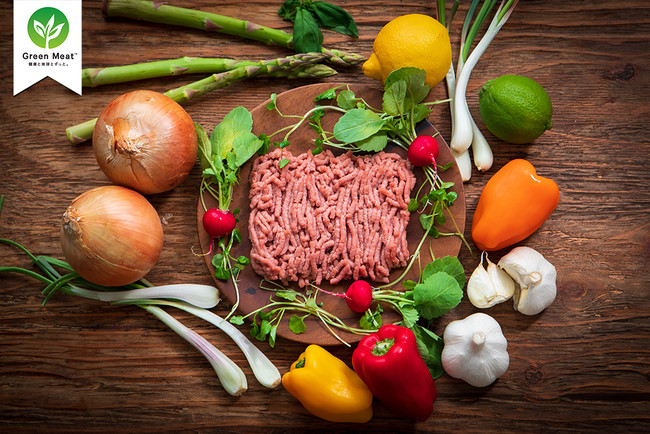 About Greenculture Co., Ltd. (URL: https://greenculture.co.jp/)
Green Culture Co., Ltd. develops, produces and sells plant-based meat under the theme of "Health and Planet" to create a sustainable future. Representative Mr. Satoshi Kaneda was shocked by the richer food environment than Japan when he was studying in the United States. He wanted to make plant-based food closer to Japan, so he established a mail order store in 2011. In April 2021, we successfully developed plant-based meat "Green Meat™" using the plant-based food development technology accumulated in our business operations, and started selling it to outside restaurants. The company has been around for 11 years, leveraging its knowledge of end consumer tastes and an original R&D database of genuine dealings with customers to not only complement existing meat, but also be "tastier and healthier than meat." We will create A future where we can deliver "vegetable meat" to your table.


Company Name: Green Culture Co., Ltd.
Address: 2nd Floor, Endo Building, 1-17-11 Higashikananecho, Katsushika-ku, Tokyo (Head Office Sales Department)
Date of establishment: February 14, 2011
Capital: 260 million yen (including capital reserve)
Business description: Plant meat Green Meat™️ business development, plant-based food professional mail order website operation, Green's Vegetarian, etc.
Website: https://greenculture.co.jp/
[购买咨询联系方式]
Green Culture Co., Ltd. Marketing Department
Inquiry form: https://greenculture.co.jp/contactus/
To company press release details (2022/02/21-13:47)